The Australian Association for Restorative Justice supports a national system of accreditation for practitioners working within the area of restorative justice and restorative practice. A national accreditation system can benefit restorative justice practice in much the same way as a national system of mediation accreditation benefits mediation practice.
AARJ uses the word 'convenor' as the most widely applied generic term for a practitioner who facilitates a group conference or similar structured, restorative group meeting. We note that this usage is not entirely consistent across all states and territories, and across all restorative justice and restorative practice programs.
We have found it helpful to use the same generic term 'convenor' for i) practitioners working in both restorative justice and restorative practices and ii) for practitioners working within programs (whether the programs are legislated or not) or as private consultants (or sole practitioners).
External accreditation has benefits beyond the scope of the any particular program. It supports:
the recognition and application of convenors' skills beyond the program in which they are currently working;
the growth of a body of skilled practitioners who can work across multiple programs;
a common language and skill base of restorative justice practice;
quality control of private consultants and of Group Conferencing programs run by commercial or non-government organisations.
A core activity of the accreditation system is reflective practice and effective peer mentoring, whereby convenors provide observational feedback to each other:
Initial convenor training encourages dialogue between theory and practice.
This dialogue continues through the on-the-job learning in a program.
Convenors acquire, through training, peer support and review forums, a solid grasp of core concepts and skills – including the skill of observational feedback.
A set of templates provides a structure for mentoring conversations with fellow convenors and with supervisors.
This integrated system produces a virtuous circle of reflective practice. Current knowledge is widely shared and consolidated. New knowledge is quickly reviewed and added to the sum of collective knowledge: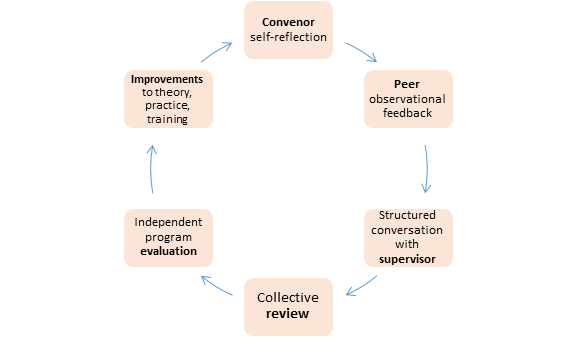 ---