Restorative Schools World eConference
Click here to register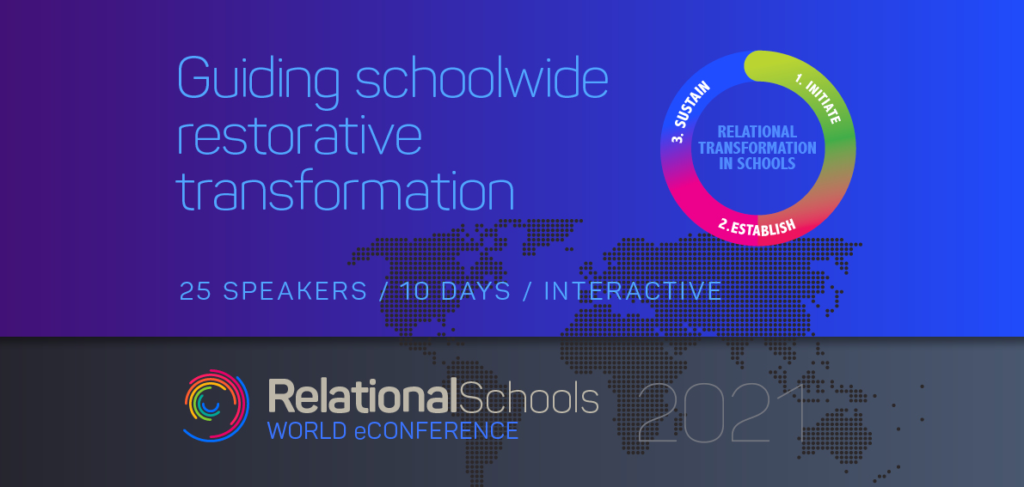 Transforming Conflict through Group Conferencing
Melbourne Training Workshop
with David Moore & Alikki Vernon
February 24th – 26th 2021
University College, Melbourne
This workshop provides 3 days of training for professionals who are practising, or interested to practise, in the field of conflict transformation and relationship management. The training is also valuable for managers responsible for policy development and program administration in justice, health and education systems, and work in families, workplaces, and residential &/or other communities.
This late February workshop will be the first 2021 Transforming Conflict training workshop. At this stage, we have scheduled two more workshops in Melbourne for 2021: May 19th – 21st, and August 25th – 27th.
More information here
Restorative Community Conferencing Training for Schools
Training for Schools
with David Vinegrad
March 25th – 26th 2021
Venue:  Webinar

This 2 day workshop is ideal for people working in student management roles, Assistant Principals, Principals, student support staff and members of student wellbeing and behaviour management teams.
This will be delivered via Microsoft Teams due to Covid 19 restrictions. It was previously planned for face2face at the Veneto club however health risks are still present in Victoria.
More information here